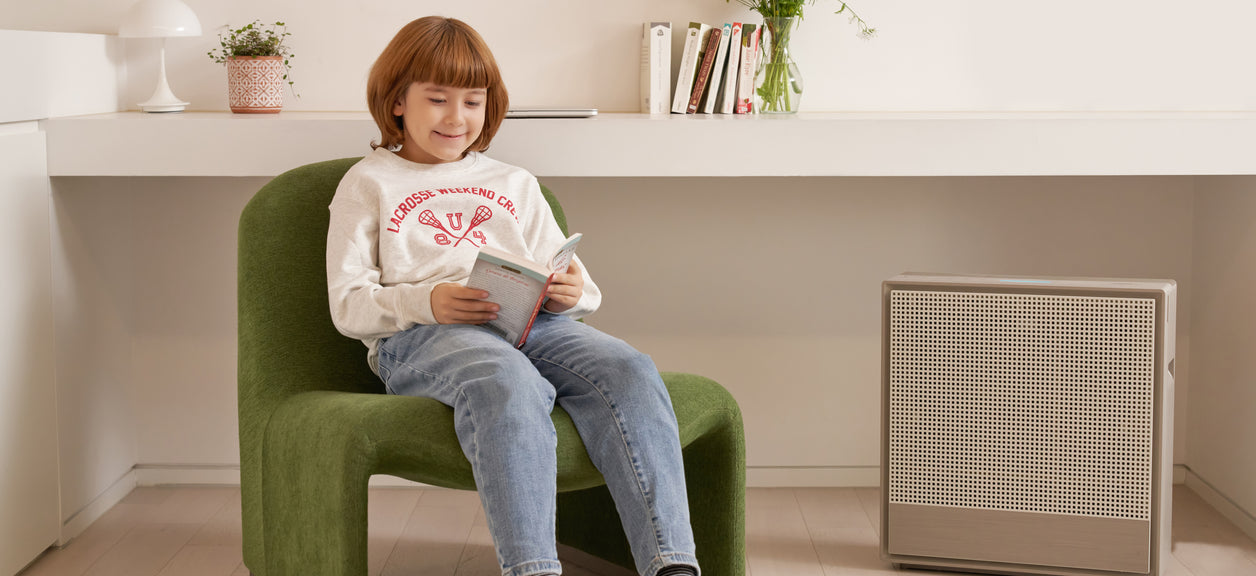 BLOG ARTICLES
Published: Aug 28, 2023
5 Ways to Ensure Students Breathe Clean Air
School supply checklists, clothes shopping, parent-teacher meetings, meal prep, getting teenagers out of bed before 11 a.m. Your back-to-school to-do list is packed enough without adding health-related stressors to the mix. This is exactly why it's important to know that when your kids go back to the classroom, they're going to breathe clean air.
As a 2022 study from the Journal of Building Engineering puts it, "Pupils are a different segment of the population from adults in many ways, and they are more exposed to the poor indoor environment: They breathe in more air per unit weight [so] their vulnerability is higher than adults, and poor conditions may affect proper development."
Indoor air quality matters, especially for young learners, and these five pro tips can help ensure that your budding scholars breathe clean air – which helps you breathe easy when they're at school.
Crack Those Windows
The truth is, most schools don't ventilate enough. One of the quickest, easiest ways to address that? Crack a window.
Indoor air is typically 3-4 times more polluted than outdoor air, according to the Canadian Lung Association, which is why they suggest opening doors and windows to draw in fresher outdoor air and cut back on indoor pollutants. Opening windows and doors on opposing sides of the classroom to create a cross draft is particularly effective, as is using a CO2 monitor (CO2 levels reading above 800 parts per million mean that the classroom needs more outdoor air). Cracking windows is, of course, the baseline for in-school air quality – it's a simple and totally accessible method, but schools will need to pair it with other air quality practices for maximum impact.
Install In-School Air Purifiers
Nowadays, we're dealing with heaps of environmental concerns that negatively impact air quality. Whether we're talking harmful chemicals or wildfire smoke, air purifiers and portable air cleaning devices (PACs) are absolutely essential tools for the drive to breathe clean air in classrooms. These filtration devices capture particulates, chemicals and even viruses from indoor environments before releasing clean air back into the space.
Our Airmega 250 model captures and removes 99.98 percent of SARS-CoV-2 viruses floating in the air. Purifiers like these also deodorize the air, making for more comfortable spaces for learning, playing, exploring and everything else that goes down in class.
Keep HVAC On-Point
Natural Resources Canada reports that the HVAC system plays a significant role in air quality and energy consumption. The EPA suggests HVAC air filters with dust-spot ratings between 35 and 80 percent or Minimum Efficiency Rating Values (MERV) between 8 and 13. And while school admin can take advantage of federal stimulus funding to update their HVAC systems, some simpler practices help maximize their effectiveness in the moment. For instance, schools should maintain three feet of clearance around vents, regularly clean diffusers, exhausts and returns grills, use high-efficiency MERV-rated filters, and change those filters regularly.
Get Clean, Go Green
Take it from the EPA, the types of harsh chemicals found in common cleaning products can lead to everything from runny noses and sore thoughts to nausea and asthma. That's why the EPA recommends that schools turn to more environmentally friendly, natural cleaning products to make for less harmful environments and improve air quality. For friendlier alternatives, school staff should turn to cleaners with neutral pH levels, no carcinogens and no Volatile Organic Compounds (or VOCs). Alongside cutting back on chemicals, reducing the amount of cloth (like curtains) and other dust-collecting items in the classroom can also help improve overall air quality.
Educate Our Educators
So many of us have learned that a great teacher can positively impact our lives for the long haul, and so much of what makes those teachers great is continued education. Now more than ever, up-to-date education on the best air quality practices is crucial for educators and school staff, and the resources are plentiful – the Environmental Protection Agency's Indoor Air Quality Tools for Schools Action Kit is a fantastic (and free) place to start.
Air quality affects young learners' physical health as much as it does their mental health. Like the Building Engineering study says, "a healthy learning environment can reduce the absence rate, improve test scores, and enhance [pupil] learning productivity." That's a place we can get to, together. Whether you're a parent, teacher or administrator, get in touch with Coway to make sure your school's air quality makes the honor roll this year.
Dan is a Dallas-based freelance writer and consultant specializing in tech, media analysis and lifestyle content. In his decade-plus experience, he's been fortunate enough to work alongside partners including Samsung, BRIO, ASUS, Verizon, Sony and many more.
Sources
ScienceDirect - Journal of Building Engineering: Indoor Air Quality and Health in Schools: A Critical Review for Developing the Roadmap for the Future School Environment
Education Writers Association - How Indoor Air Quality in Schools Affects Student Learning and Health
American Lung Association - 5 Ways to Protect the Air Quality in Schools
California Department of Public Health - Tips for Improving Indoor Air Quality at School
United States Government Accountability Office - Report to Congressional Addresses, K-12 Education: School Districts Frequently Identified Multiple Building Systems Needing Updates or Replacement
Washington State Department of Health - Healthy Air Quality in Schools
United States Environmental Protection Agency - Heating, Ventilation and Air-Conditioning Systems, Part of Indoor Air Quality Design Tools for Schools
United States Environmental Protection Agency - SC3: Protecting Students and Staff with Green Cleaning
United States Environmental Protection Agency - Indoor Air Quality Tools for Schools Action Kit
Disclaimers
1Coway air purifiers has been proven to trap dust, pollen, dander, viruses and bacteria in the air based on KCL (Korea Conformity Laboratories) testing.They have been tested in a 30㎥ size chamber according to the Korea Air Cleaning Association standard (SPS-KACA 002-132:2022 Modified) to measure the 0.01㎛ size of particle removal rate. It was tested on maximum airflow speed in normal room temperature and humidity conditions. The performance may vary in the actual living environment of customers.
→ Tested with Airmega Aim, 150, 160, AP-1216L, AP-1512HH, AP-1512HHS, 200M, Icon, IconS, 230, 240, 250, 250 Art, 250S, 300, 300S, 400, 400S, ProX
299.97% of viruses, bacteria, fungi and pollen were verified to be removed from the air for Coway air purifiers which have Green True HEPA™ filter applied based on the Japan Food Research Laboratories(JFRL) testing according to JEM 1467 standard.
→ Tested with Coway Airmega AP-1512HH, AP-1512HHS, 250, 250 Art, 250S, 300, 300S, 400, 400S
→ All tested by JFRL and received above result within below time.

All tested by JFRL and received above result within below time.

- Virus: Tested with Escherichia coli phage ΦX174 NBRC 103405, 60 minutes
- Bacteria: Tested with Staphylococcus epidermidis NBRC 12993, 60 minutes
- Fungi/Mold: Tested with Penicillium citrinum NBRC 6352, 60 minutes
- Pollen: Tested with Cedar Pollen extract, 60 minutes

3Aerosol test conducted in a Biosafety level 3 laboratory with two Coway air purifier models, Coway Airmega 250 and 400 for removal of SARS-CoV-2 Aerosol by US based MRI Global, a not-for-profit laboratory and partner of US Department of Defense. The test was conducted in a 13.1ft3 chamber. Virus was aerosolized for 15 minutes and the product was turned on high for 2 minutes. Result showed each product effectively removed over 99.98% of the SARS-CoV-2 in 2 minutes. This is a result from a laboratory experiment condition and result may vary in different conditions. This result does not imply it kills SARS-CoV-2 or prevents the transmission of Covid-19. Coway Airmega 250S and 400S are identical to the tested models and has equal performance with an additional mobile connectivity function.
4The concentration of ammonia, acetaldehyde and acetic acid were proven to be removed within 30 minutes by FCG Research Institute, Inc. Human Life Science Lab. It is not a demonstration result in the actual use space. Not all odors and gases may be supported. → Tested with Coway Airmega 150, 160, AP-1512HH, AP-1512HHS, 400, 400S
5The coverage area of the air purifier is based on an area where the air cleaner can make two air changes per hour (ACPH). An air change per hour translates to how many times an air purifier can clean an area, assuming the height of a ceiling to be 8 ft, in one hour. Therefore ** means two air changes per hour means that the cleaner can clean the area once every 30 minutes and * means air changes per hour means that the air purifier can clean the area once every 60 minutes.
10Terms and conditions apply. Discounts, including promotions, coupons, and bundle pricing, cannot be stacked on top of other coupons. During promotional periods, discount codes will not be able to be applied to orders. Promo codes may apply to products only—filters, accessories, and new products within 3 months of the release date are not included.