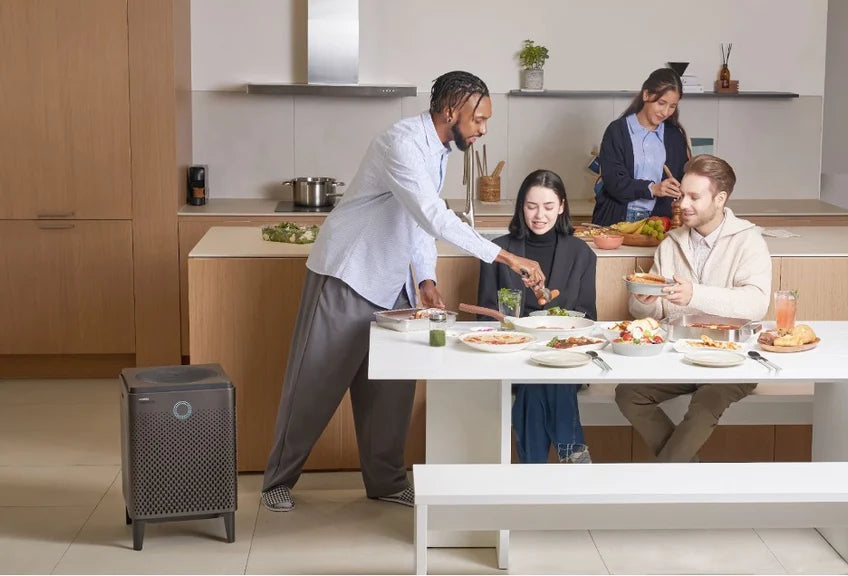 BLOG ARTICLES
Published: Oct 10, 2023
Can Improved Indoor Air Quality Boost Mood Naturally?
Home is supposed to be our happy place, but that's not always the experience for people living with poor indoor air quality. Not only are one in four Americans already struggling with a level of air pollution that can damage their lives, but poor indoor air quality could be impacting our mood. We're still learning more about the risks, but already 95% of studies show that air quality can cause "significant physical and functional changes" in the parts of the brain that regulate emotion. Our home may not be the haven we think it is. In fact, the level of air pollutants indoors could be up to 100 times higher than outside.
You don't have to suck it up in silence, however. There are some easy precautions you can take to mitigate the risks and simple steps to boost your mood naturally with clean indoor air.
How Indoor Air Quality Affects Mood
If you're frequently feeling tired, sluggish, or anxious even when you're at home, there may be an issue with your air quality. The problem is that it's an invisible threat. You can't see most of the ultra-fine pollutants, although a telltale giveaway is a film of dust on your windows or surfaces. 
Scientific studies show that even low levels of common indoor air pollutants can contribute to feelings of fatigue, irritability, and even depression. The risks are elevated for children and adolescents in a critical phase of brain development. If the air they breathe is pollutant-heavy, it can impact their motivation, cognitive function, and academic performance. 
In the long term, there's even more to be worried about. Studies show an increased risk of psychiatric disorders, anxiety, dementia, and depression in groups who are exposed to high levels of nitrogen oxide, nitrogen dioxide, carbon monoxide, and common household chemicals.  
The Sources of Poor Air Quality
According to the Environmental Protection Agency, you should be eliminating as many of the following sources of poor air quality as your first step towards a natural mood boost:
Building materials. Not just asbestos but also chemicals used in upholstery and pressed wood furnishings (formaldehyde) and other volatile organic compounds

Household cleaning products, including air fresheners (the irony!), bleach, and ammonia

Gas stoves (carbon monoxide)

Pesticides

Dust and mold

Radon

HVAC systems
As you can see, it's not as simple as closing a window when traffic outside is heavy. There are potential bad-mood triggers inside, from the kitchen to the bathroom.
How to Boost Your Mood Naturally
If you can identify the sources of indoor pollutants, address them with the ideas below, and monitor your air quality levels regularly, you will see a dramatic, positive change in your mood.
1. Increase ventilation
Open windows to create an airflow that removes stagnant air accumulating high levels of pollutants. As a precaution, screen and filter incoming air. 
2. Switch to natural cleaning products 
If you haven't seen this on TikTok or YouTube already, join the movement today to substitute your brand-name sprays, detergents, and polishes with natural, chemical-free alternatives, like vinegar, baking soda, and charcoal.
3. Release the houseplants 
Fill your shelves and corners with ferns, palms, and a peace lily or two. They're low maintenance, add a splash of green, and are highly effective at filtering the air.
4. Use an air purification system 
Get proactive on pollution with a domestic unit like our Airmega 200M. This gives you four-stage filtration to pre-filter dust, deodorize the air with a carbon filter, remove ultra-fine particles with a HEPA filter, and zap bacteria and viruses with a Vital Ionizer. Plus, the air quality indicator gives you a complete picture of the quality you can't see.  
5. Change your filters regularly 
Especially in the summer months when you're more likely to have windows open, don't let AC filters or air purification filters become clogged with dust, pollen, or dander. This can reduce their effectiveness.
6. Use a cooking vent for your stove 
Think of how much time you spend in the kitchen, then remind yourself that the standard gas stove releases an invisible cloud of volatile compounds and gasses (as well as strong smells). Remove them at the source with an overhead extractor or window vent. 
Whether you're moving into a new home or starting to wonder if your current building is making you sick, you will notice a significant natural boost in your mood with air purification. The research is relatively recent, and most of the biggest findings have occurred in the last decade or so, which means there may be even more shocking correlations to confront between air quality and mental health. Don't wait until it's too late. Start creating your clean-air indoor environment today. 
[SOURCES]
Psychiatry.org Air Pollution's Impact on Mental Health.
World Economic Forum This is the impact of air pollution on your brain and mental health
PBS What Are the Emotional, Mental -- And Economic Costs of Air Pollution?
NCBI Association between air pollution exposure and mental health service use among individuals with first presentations of psychotic and mood disorders: retrospective cohort study - PMC
USA Today Exposure to air pollution increases risk for anxiety or depression. What can you do?
Nature A 28-day, 2-year study reveals that adolescents are more fatigued and distressed on days with greater NO2 and CO air pollution | Scientific Reports
Disclaimers
1Coway air purifiers has been proven to trap dust, pollen, dander, viruses and bacteria in the air based on KCL (Korea Conformity Laboratories) testing.They have been tested in a 30㎥ size chamber according to the Korea Air Cleaning Association standard (SPS-KACA 002-132:2022 Modified) to measure the 0.01㎛ size of particle removal rate. It was tested on maximum airflow speed in normal room temperature and humidity conditions. The performance may vary in the actual living environment of customers.
→ Tested with Airmega Aim, 150, 160, AP-1216L, AP-1512HH, AP-1512HHS, 200M, Icon, IconS, 230, 240, 250, 250 Art, 250S, 300, 300S, 400, 400S, ProX
299.97% of viruses, bacteria, fungi and pollen were verified to be removed from the air for Coway air purifiers which have Green True HEPA™ filter applied based on the Japan Food Research Laboratories(JFRL) testing according to JEM 1467 standard.
→ Tested with Coway Airmega AP-1512HH, AP-1512HHS, 250, 250 Art, 250S, 300, 300S, 400, 400S
→ All tested by JFRL and received above result within below time.

All tested by JFRL and received above result within below time.

- Virus: Tested with Escherichia coli phage ΦX174 NBRC 103405, 60 minutes
- Bacteria: Tested with Staphylococcus epidermidis NBRC 12993, 60 minutes
- Fungi/Mold: Tested with Penicillium citrinum NBRC 6352, 60 minutes
- Pollen: Tested with Cedar Pollen extract, 60 minutes

3Aerosol test conducted in a Biosafety level 3 laboratory with two Coway air purifier models, Coway Airmega 250 and 400 for removal of SARS-CoV-2 Aerosol by US based MRI Global, a not-for-profit laboratory and partner of US Department of Defense. The test was conducted in a 13.1ft3 chamber. Virus was aerosolized for 15 minutes and the product was turned on high for 2 minutes. Result showed each product effectively removed over 99.98% of the SARS-CoV-2 in 2 minutes. This is a result from a laboratory experiment condition and result may vary in different conditions. This result does not imply it kills SARS-CoV-2 or prevents the transmission of Covid-19. Coway Airmega 250S and 400S are identical to the tested models and has equal performance with an additional mobile connectivity function.
4The concentration of ammonia, acetaldehyde and acetic acid were proven to be removed within 30 minutes by FCG Research Institute, Inc. Human Life Science Lab. It is not a demonstration result in the actual use space. Not all odors and gases may be supported. → Tested with Coway Airmega 150, 160, AP-1512HH, AP-1512HHS, 400, 400S
5The coverage area of the air purifier is based on an area where the air cleaner can make two air changes per hour (ACPH). An air change per hour translates to how many times an air purifier can clean an area, assuming the height of a ceiling to be 8 ft, in one hour. Therefore ** means two air changes per hour means that the cleaner can clean the area once every 30 minutes and * means air changes per hour means that the air purifier can clean the area once every 60 minutes.
10Terms and conditions apply. Discounts, including promotions, coupons, and bundle pricing, cannot be stacked on top of other coupons. During promotional periods, discount codes will not be able to be applied to orders. Promo codes may apply to products only—filters, accessories, and new products within 3 months of the release date are not included.