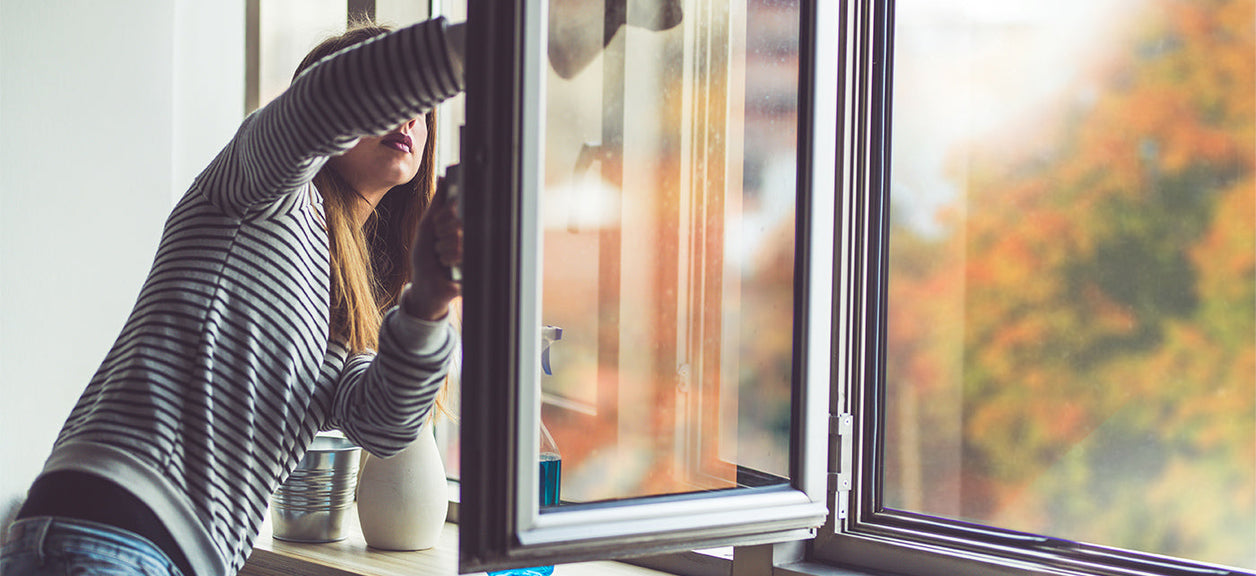 BLOG ARTICLES
Published: Nov 08, 2017
7 fall cleaning tips for cleaner air
As the weather grows colder and seasons change, it's a good time to catch up on items that may be on the back burner: papers or bills you haven't filed, backyard projects you've been meaning to tackle or activities with your family and friends. One more item that may also be on the list – fall cleaning.
Cleaning in the fall gives you a chance to take care of anything you may have inadvertently ignored while you were enjoying warm weather and the busy schedule that tends to accompany it. Any kind of buildup in your home can lead to more dirt and particles in the air that you end up breathing in. This is certainly bad for anyone's lungs, but even more so for those with asthma and allergies. These seven fall cleaning tips can help improve the quality of your home, and your air.
1. Wash your windows
Clean any grime that has made its home around your windows – the sills and screens, in particular. While doing so, check to make sure they are all properly sealed. This will keep both cold and debris from entering your home.
2. Wash your blankets and linens
Colder temps lead to more wrapping up inside a blanket or a heavy comforter. However, since most blankets get stored away for the summer, be sure to wash them before snuggling up to remove pollen, dirt, dander, dust, dust mites, or other allergens that may have settled in over the warmer months.
3. Do a deep clean of your carpet and upholstery
Like your linens, your floor coverings catch and trap particles year-round, tracked in by shoes and pets. A deep clean removes the buildup, especially if you have pets. Additionally, give your upholstery a good clean to remove pet hair and dander.
4. Declutter
It's easy to store things away in a box and never think about them again. But those items continue to take up space and could be a breeding ground for dust and mould. Go through your belongings and donate what you don't use. Not sure where to start? If you're hanging onto old boxes of photos, transfer them to a digital hard drive. This way, you can free up space that was occupied by boxes, and protect precious memories from the elements.
5. Clean your entryways
High-traffic doorways are the main points of entry for contaminants. Clean your doormat by shaking it out and going over it with a vacuum attachment. Sweep all the dirt and debris that has collected outside your entryway. Remove any built-up grime from your threshold and door frame.
6. Clean your gutters
Make sure your gutters are clear. The combination of old leaves and moisture creates a breeding ground for mould. Blocked gutters can cause rainwater to drain incorrectly, which can create leaks in your home—another source of mould.
7. Use an air purifier with a HEPA air filter
A HEPA air purifier can help maintain your newly cleaned home by filtering out dust, dander, dirt, mould, and other airborne particles.
Disclaimers
1Coway air purifiers has been proven to trap dust, pollen, dander, viruses and bacteria in the air based on KCL (Korea Conformity Laboratories) testing.They have been tested in a 30㎥ size chamber according to the Korea Air Cleaning Association standard (SPS-KACA 002-132:2022 Modified) to measure the 0.01㎛ size of particle removal rate. It was tested on maximum airflow speed in normal room temperature and humidity conditions. The performance may vary in the actual living environment of customers.
→ Tested with Airmega Aim, 150, 160, AP-1216L, AP-1512HH, AP-1512HHS, 200M, Icon, IconS, 230, 240, 250, 250 Art, 250S, 300, 300S, 400, 400S, ProX
299.97% of viruses, bacteria, fungi and pollen were verified to be removed from the air for Coway air purifiers which have Green True HEPA™ filter applied based on the Japan Food Research Laboratories(JFRL) testing according to JEM 1467 standard.
→ Tested with Coway Airmega AP-1512HH, AP-1512HHS, 250, 250 Art, 250S, 300, 300S, 400, 400S
→ All tested by JFRL and received above result within below time.

All tested by JFRL and received above result within below time.

- Virus: Tested with Escherichia coli phage ΦX174 NBRC 103405, 60 minutes
- Bacteria: Tested with Staphylococcus epidermidis NBRC 12993, 60 minutes
- Fungi/Mold: Tested with Penicillium citrinum NBRC 6352, 60 minutes
- Pollen: Tested with Cedar Pollen extract, 60 minutes

3Aerosol test conducted in a Biosafety level 3 laboratory with two Coway air purifier models, Coway Airmega 250 and 400 for removal of SARS-CoV-2 Aerosol by US based MRI Global, a not-for-profit laboratory and partner of US Department of Defense. The test was conducted in a 13.1ft3 chamber. Virus was aerosolized for 15 minutes and the product was turned on high for 2 minutes. Result showed each product effectively removed over 99.98% of the SARS-CoV-2 in 2 minutes. This is a result from a laboratory experiment condition and result may vary in different conditions. This result does not imply it kills SARS-CoV-2 or prevents the transmission of Covid-19. Coway Airmega 250S and 400S are identical to the tested models and has equal performance with an additional mobile connectivity function.
4The concentration of ammonia, acetaldehyde and acetic acid were proven to be removed within 30 minutes by FCG Research Institute, Inc. Human Life Science Lab. It is not a demonstration result in the actual use space. Not all odors and gases may be supported. → Tested with Coway Airmega 150, 160, AP-1512HH, AP-1512HHS, 400, 400S
5The coverage area of the air purifier is based on an area where the air cleaner can make two air changes per hour (ACPH). An air change per hour translates to how many times an air purifier can clean an area, assuming the height of a ceiling to be 8 ft, in one hour. Therefore ** means two air changes per hour means that the cleaner can clean the area once every 30 minutes and * means air changes per hour means that the air purifier can clean the area once every 60 minutes.
10Terms and conditions apply. Discounts, including promotions, coupons, and bundle pricing, cannot be stacked on top of other coupons. During promotional periods, discount codes will not be able to be applied to orders. Promo codes may apply to products only—filters, accessories, and new products within 3 months of the release date are not included.