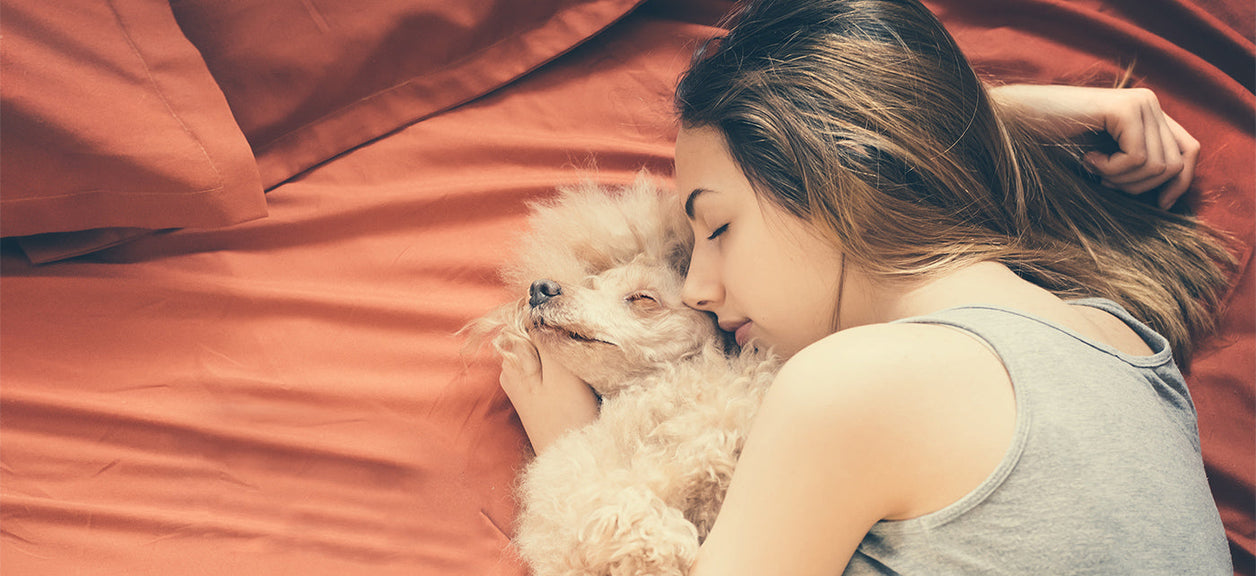 BLOG ARTICLES
Published: Nov 30, 2017
Which dog breeds are the best and worst for your allergies?
Who doesn't love to cuddle with their favorite fluffy friend? Dogs are great companions, but can be a problem for those with allergies or asthma. While some people are allergic to dog fur, it tends to be pet dander or saliva that's the culprit. However, the fur on your dog can be like a lightning rod for indoor allergens, giving them a place for these particles to collect, making your dog a walking (and cuddling) sneeze trigger.
There are no dogs that are 100% hypoallergenic, but hopefully our sneeze scale will help you decide which will be the best fit for your household. If you are thinking about adopting or rescuing a dog, a test period in your home can be a good way to find out how your allergies or asthma react to your potential new pet.
Xoloitzcuintli
The best thing about these dogs for those with allergies is that they have very little fur to capture allergens. Aside from the one in five that are born with hair (due to hairlessness being a recessive gene), you'll only find hair on a Xolo's head, back, and tail.
Sneeze Scale: 1 out of 5
Fun Fact: This is one of the oldest dog breeds in the world at over 3,000 years.
Honorable mention: The Hairless Chinese Crested for its distinct lack of hair.
Poodle
These fluffy dogs are known for having hair rather than fur, meaning less dander and no shedding. Their waterproof coat traps hair before it falls out, and tends to keep outdoor allergens from coming indoors on their coat. Because of this feature, they are a popular dog to cross breed, which is how we have goldendoodles, labradoodles, and oodles of other varieties.
Sneeze scale: 2 out of 5
Fun fact: Their fanciful (and sometimes froofy) follicles serve a purpose. Because these hunting dogs would frequently jump into freezing cold water, poodles needed hair around their joints and vital organs to keep them warm, but less hair everywhere else to prevent them from getting weighed down.
Honorable mention: The Portuguese Water Dog, which also sports a waterproof coat.
Schnauzer
Despite its dapper facial hair, this bearded breed is known to produce less dander than other breeds. Less dander means less sneezing and itching for those with a pet dander allergy. Bonus points for the miniature schnauzer—their smaller frame means even less dander to worry about.
Sneeze scale: 3 out of 5
Fun Fact: Their name comes from the "schnauze," which means snout or muzzle in German.
Honorable mention: The Bedlington Terrier. This lamb-like breed also produces very little dander.
St. Bernard
These gentle giants tend to be one of the slobberiest dogs, which can be a big dilemma for those allergic to dog saliva.
Sneeze scale: 4 out of 5
Fun fact: A representation of a St. Bernard named Barry can be found in the Natural History Museum in Berne, Switzerland to commemorate the dog that saved over 40 people in the Swiss Alps in the early 1800s.
Honorable mention: The similarly slobbery Bulldog breed.
Pembroke Welsh Corgi
Beloved by English royalty, corgis are prone to heavy shedding. This is due to their double coat, used to keep them warm while they would herd cattle and sheep year-round. Because of their smaller size, however, they have less total fur to shed, dropping them slightly on our sneeze scale.
Sneeze scale: 4 out of 5
Fun Fact: According to Welsh lore, fairies would ride corgis into battle. The white fur around a corgi's neck, usually sandwiched between tan or black fur, is referred to as a fairy saddle.
Honorable mention: Boston Terriers are another small pup that can pack a punch. This breed is allergy-prone, which gives them itchy skin and watery eyes — a combo that's less than ideal for allergy-prone humans.
Newfoundland
This breed has the trifecta of allergy-triggering traits. They exhibit year-round heavy shedding and constant drooling, plus, they have an extremely large body. This means more total hair and drool to deposit.
Sneeze scale: 5 out of 5
Fun fact: Captain Meriwether Lewis had a Newfoundland named Seaman that joined Lewis and Clark on their westward expedition.
Honorable mention: Also coming from chilly origins, Siberian Huskies have a thick double coat that perpetually sheds, along with a seasonal "coat blow" where an entire coat falls out to make way for the next season's coat underneath.
While some dogs are more allergy-friendly than others, no matter what breed of dog you may have, you may need to take extra measures to keep your air clean. Deep clean your carpet and upholstery seasonally, become best friends with your broom and vacuum cleaner, and use a HEPA air filter to ensure that 99.97 percent of particulate matter is removed from the air in your home.
Disclaimers
1Coway air purifiers has been proven to trap dust, pollen, dander, viruses and bacteria in the air based on KCL (Korea Conformity Laboratories) testing.They have been tested in a 30㎥ size chamber according to the Korea Air Cleaning Association standard (SPS-KACA 002-132:2022 Modified) to measure the 0.01㎛ size of particle removal rate. It was tested on maximum airflow speed in normal room temperature and humidity conditions. The performance may vary in the actual living environment of customers.
→ Tested with Airmega Aim, 150, 160, AP-1216L, AP-1512HH, AP-1512HHS, 200M, Icon, IconS, 230, 240, 250, 250 Art, 250S, 300, 300S, 400, 400S, ProX
299.97% of viruses, bacteria, fungi and pollen were verified to be removed from the air for Coway air purifiers which have Green True HEPA™ filter applied based on the Japan Food Research Laboratories(JFRL) testing according to JEM 1467 standard.
→ Tested with Coway Airmega AP-1512HH, AP-1512HHS, 250, 250 Art, 250S, 300, 300S, 400, 400S
→ All tested by JFRL and received above result within below time.

All tested by JFRL and received above result within below time.

- Virus: Tested with Escherichia coli phage ΦX174 NBRC 103405, 60 minutes
- Bacteria: Tested with Staphylococcus epidermidis NBRC 12993, 60 minutes
- Fungi/Mold: Tested with Penicillium citrinum NBRC 6352, 60 minutes
- Pollen: Tested with Cedar Pollen extract, 60 minutes

3Aerosol test conducted in a Biosafety level 3 laboratory with two Coway air purifier models, Coway Airmega 250 and 400 for removal of SARS-CoV-2 Aerosol by US based MRI Global, a not-for-profit laboratory and partner of US Department of Defense. The test was conducted in a 13.1ft3 chamber. Virus was aerosolized for 15 minutes and the product was turned on high for 2 minutes. Result showed each product effectively removed over 99.98% of the SARS-CoV-2 in 2 minutes. This is a result from a laboratory experiment condition and result may vary in different conditions. This result does not imply it kills SARS-CoV-2 or prevents the transmission of Covid-19. Coway Airmega 250S and 400S are identical to the tested models and has equal performance with an additional mobile connectivity function.
4The concentration of ammonia, acetaldehyde and acetic acid were proven to be removed within 30 minutes by FCG Research Institute, Inc. Human Life Science Lab. It is not a demonstration result in the actual use space. Not all odors and gases may be supported. → Tested with Coway Airmega 150, 160, AP-1512HH, AP-1512HHS, 400, 400S
5The coverage area of the air purifier is based on an area where the air cleaner can make two air changes per hour (ACPH). An air change per hour translates to how many times an air purifier can clean an area, assuming the height of a ceiling to be 8 ft, in one hour. Therefore ** means two air changes per hour means that the cleaner can clean the area once every 30 minutes and * means air changes per hour means that the air purifier can clean the area once every 60 minutes.
10Terms and conditions apply. Discounts, including promotions, coupons, and bundle pricing, cannot be stacked on top of other coupons. During promotional periods, discount codes will not be able to be applied to orders. Promo codes may apply to products only—filters, accessories, and new products within 3 months of the release date are not included.