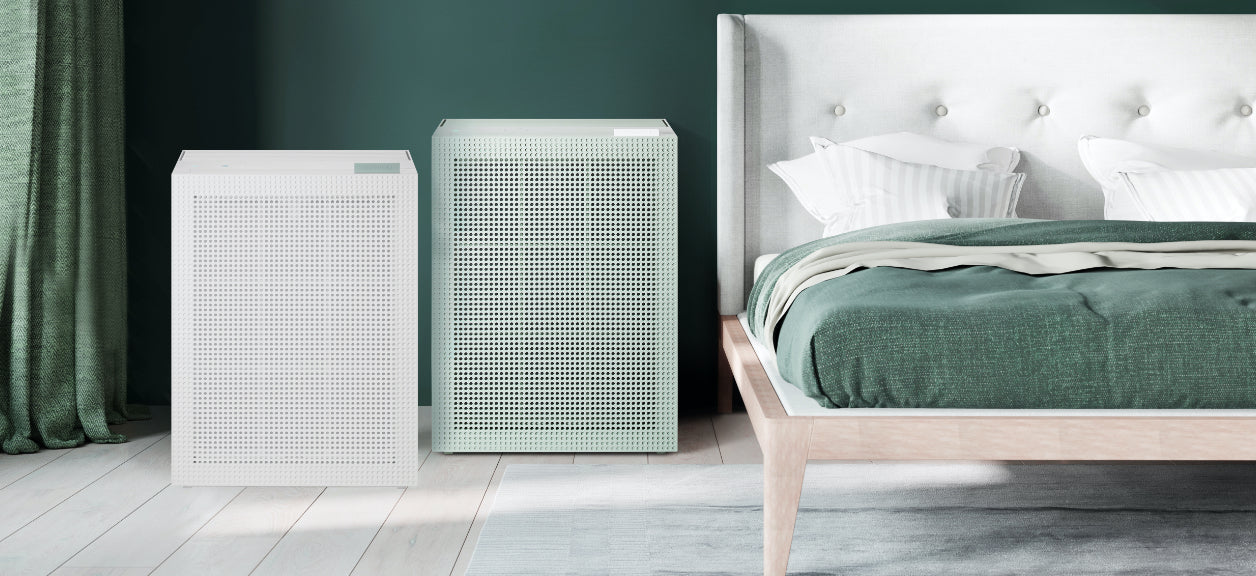 BLOG ARTICLES
Published: Sep 16, 2020
Meet the all-new Coway Airmega 150
All-new design
We know how important aesthetics can be. If you've gone a long way to arrange and design your home in a way that supports your comfort and well-being, the last thing you want to bring in is a large, clunky machine. The Airmega 150 is sleek and compact enough to fit nearly any room's design. With modern lines and sleek engineering, you may even want to show it off anyway.
The perfect size
At 18.5 inches tall, you may want to underestimate the Airmega 150. But, in a feat of engineering and vision, this little powerhouse comes with a full-sized filter and the same award-winning filtration found inside every Airmega. Extended development allowed us to reconfigure and streamline the inner filtration process, delivering incredible power in a smaller machine, and at a reasonable price. With 214 square feet of coverage, it is the perfect discreet powerhouse for nearly any room.
Triple-Filter, Green True HEPA technology
You can expect powerful performance from the Airmega 150. The combination of a pre-filter, deodourization filter, and a Green True HEPA filter can seriously reduce airborne odours and pollutants, and transform the air you breathe. HEPA, which stands for High Efficiency Particulate Air, is a designation used to describe filters that are able to trap 99.97* percent of particles that are as small as 0.3 microns.
It's about your health
Using Airmega 150 in your home can ensure cleaner and healthier air for you to breathe. Purified air can go a long way in supporting your immune system, lung and heart health, and even alleviate some symptoms from breathing-related illnesses like asthma.
Packed with modern features
Air Quality Indicator keeps you informed of the status of your air quality in real time, and you can turn off the light for sleeping.

Auto Mode adjusts the fan according to the air quality, and with 30 minutes of good quality, the fan will stop and enter low-noise mode.

Filter Replacement Indicators let you know when the deodourization or HEPA filter needs to be replaced, so no need to keep track yourself.

Cartridge Design with Batch Separation makes it easier than ever to replace filters without worrying about dust, and you can move to the location of your choice before replacement.

Easy-to-remove washable pre-filter makes maintaining your unit easy. Slide out, rinse, and hang to dry.

Easy Touch Display gives you complete control—including fan speed, power, light on/off, and filter reset.
One for each room
Now that you know the true power of the sleek Airmega 150, consider making home health a priority and bring pure air into every space where you spend time.
*Based on the True HEPA filter material standard. The actual performance will be determined by indoor air quality and operation of the unit.
Disclaimers
1Coway air purifiers has been proven to trap dust, pollen, dander, viruses and bacteria in the air based on KCL (Korea Conformity Laboratories) testing.They have been tested in a 30㎥ size chamber according to the Korea Air Cleaning Association standard (SPS-KACA 002-132:2022 Modified) to measure the 0.01㎛ size of particle removal rate. It was tested on maximum airflow speed in normal room temperature and humidity conditions. The performance may vary in the actual living environment of customers.
→ Tested with Airmega Aim, 150, 160, AP-1216L, AP-1512HH, AP-1512HHS, 200M, Icon, IconS, 230, 240, 250, 250 Art, 250S, 300, 300S, 400, 400S, ProX
299.97% of viruses, bacteria, fungi and pollen were verified to be removed from the air for Coway air purifiers which have Green True HEPA™ filter applied based on the Japan Food Research Laboratories(JFRL) testing according to JEM 1467 standard.
→ Tested with Coway Airmega AP-1512HH, AP-1512HHS, 250, 250 Art, 250S, 300, 300S, 400, 400S
→ All tested by JFRL and received above result within below time.

All tested by JFRL and received above result within below time.

- Virus: Tested with Escherichia coli phage ΦX174 NBRC 103405, 60 minutes
- Bacteria: Tested with Staphylococcus epidermidis NBRC 12993, 60 minutes
- Fungi/Mold: Tested with Penicillium citrinum NBRC 6352, 60 minutes
- Pollen: Tested with Cedar Pollen extract, 60 minutes

3Aerosol test conducted in a Biosafety level 3 laboratory with two Coway air purifier models, Coway Airmega 250 and 400 for removal of SARS-CoV-2 Aerosol by US based MRI Global, a not-for-profit laboratory and partner of US Department of Defense. The test was conducted in a 13.1ft3 chamber. Virus was aerosolized for 15 minutes and the product was turned on high for 2 minutes. Result showed each product effectively removed over 99.98% of the SARS-CoV-2 in 2 minutes. This is a result from a laboratory experiment condition and result may vary in different conditions. This result does not imply it kills SARS-CoV-2 or prevents the transmission of Covid-19. Coway Airmega 250S and 400S are identical to the tested models and has equal performance with an additional mobile connectivity function.
4The concentration of ammonia, acetaldehyde and acetic acid were proven to be removed within 30 minutes by FCG Research Institute, Inc. Human Life Science Lab. It is not a demonstration result in the actual use space. Not all odors and gases may be supported. → Tested with Coway Airmega 150, 160, AP-1512HH, AP-1512HHS, 400, 400S
5The coverage area of the air purifier is based on an area where the air cleaner can make two air changes per hour (ACPH). An air change per hour translates to how many times an air purifier can clean an area, assuming the height of a ceiling to be 8 ft, in one hour. Therefore ** means two air changes per hour means that the cleaner can clean the area once every 30 minutes and * means air changes per hour means that the air purifier can clean the area once every 60 minutes.
10Terms and conditions apply. Discounts, including promotions, coupons, and bundle pricing, cannot be stacked on top of other coupons. During promotional periods, discount codes will not be able to be applied to orders. Promo codes may apply to products only—filters, accessories, and new products within 3 months of the release date are not included.